已被浏览1868次
更新日期:2019-11-22
来源:盈科律师事务所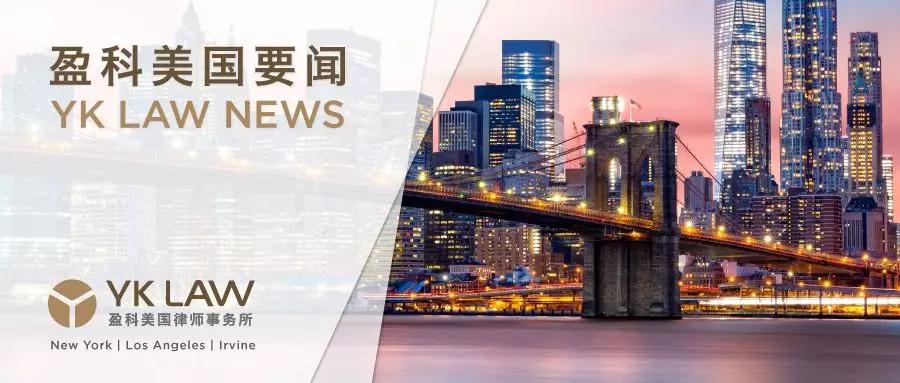 /Please scroll down for English version /
/下拉查阅英文版本/
盈科美国律师事务所非常荣幸地宣布,在中美跨境并购领域具有广泛客户认可度和市场影响力的资深律师廖彦铭(Ian Liao)已经以合伙人身份加入盈科美国,并担任律所的公司和并购业务部联席主席。北京市盈科律师事务所还将在履行必要的法律程序后聘请廖律师担任其资深外国法律顾问。廖律师将在盈科美国的洛杉矶和尔湾办公室工作,并将与盈科北京总部和盈科上海律所保持密切的联系及合作。
廖律师在并购、风险投资、私募基金、高科技投资及公司交易方面具有非常丰富经验。他曾向多家风险投资基金和高科技公司(包括初创企业和上市前的公司)提供投资及融资交易方面的法律服务。廖律师还曾代表众多顶尖跨国公司处理复杂的并购交易、资产购买及剥离、合资公司及股权交易。他曾经参与的交易遍及各个行业,如制造业、电视传媒、特殊材料、医疗器械及互联网和电子商务等。廖律师长期以来向顶尖跨国公司的管理层提供与科技及商业相关的建议,并深度参与这些企业的境内外运营;此外,廖律师还为客户提供跨境技术许可及知识产权保护方面的法律服务。廖律师自1998年起专注于大中华区企业所参与的跨境交易,并尤其擅长处理中美跨境交易。
在加入盈科美国之前,廖律师曾担任国际顶级律师事务所高盖茨(K&L Gates)和众达(Jones Day)北京和上海办公室的合伙人,他还曾在Jones Day台湾办公室工作八年。此前,廖律师还曾在夏威夷州联邦法院担任暑期实习生。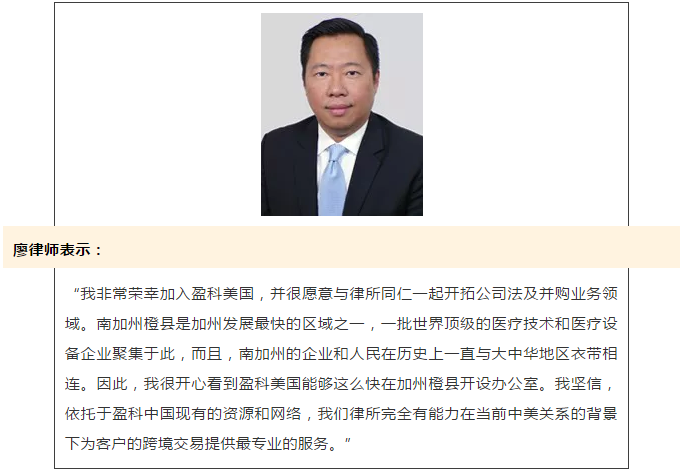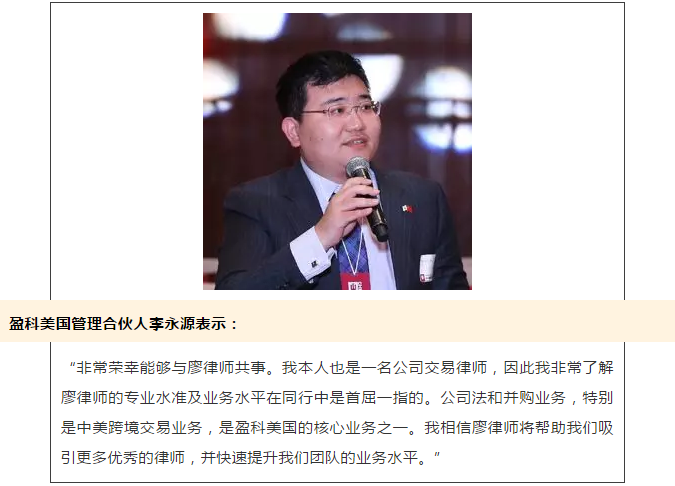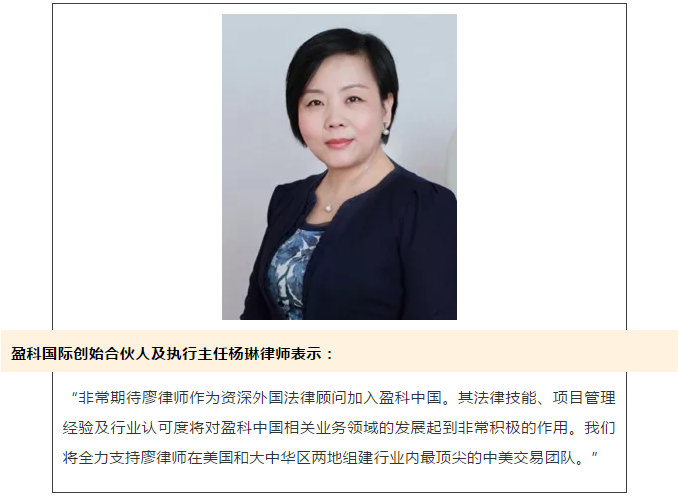 盈科美国(YK Law LLP)是一家提供全方位商业法律服务的国际律所,并专注于公司法、投资并购、区块链、商业诉讼、知识产权及娱乐法等领域。盈科美国目前在纽约、洛杉矶及尔湾设有办公室。盈科美国是盈科全球网络的成员,盈科全球网络目前在全球183个城市拥有超过一万名律师。
盈科美国的橙县(Orange County)办公室位于尔湾市,目前已正式成立。廖律师将负责盈科美国橙县办公室的设立、管理以及进一步发展壮大。
Ian Liao(廖彦铭)律师是美国加利福尼亚州执业律师(1997年至今)。其工作语言为英文、中文普通话、台湾话。
如您有任何美国法律服务需求,可随时通过邮件(info@YKLAW.US)或微信(YKLAWUS)与我们取得联系。
YK Law welcomes a new partner, Ian Liao
YK Law LLP announced that seasoned corporate attorney Ian Liao had joined the firm as a partner and co-chair of the firm's Corporate and M&A practice. Mr. Liao will split his time between the Los Angeles and Irvine offices of the firm. Subject to the registration with the Ministry of Justice of China, he will also serve as a senior foreign legal counsel of Yingke Headquarters Office in Beijing, and will work closely with Yingke's Shanghai office.
Mr. Liao has substantial experience in M&A, venture capital, private equity, technology and other corporate transactions. He has advised many venture capital funds and high-tech companies (including start-up and pre-IPO companies) in investment and fundraising transactions. Mr. Liao has also represented leading multinational companies in complex mergers, asset acquisitions and divestitures, joint ventures and equity purchase transactions involving various industry sectors (including manufacturing, television and media, special materials, medical devices and internet/e-commerce). He often works with the management teams of leading multinational companies on tech and commercial matters involving their US and overseas operations; as well as advising them on cross-border technology licensing and intellectual property enforcement matters. Mr. Liao has advised clients on cross-border transactions involving the Greater China region since 1998 and continues to do so today. In particular, he has extensive experience in transactions between China and the U.S.
Prior to joining YK Law, Mr. Liao was a partner at K&L Gates and Jones Day, where he was based in Shanghai and Beijing. He was also based in Taiwan for eight years with Jones Day. Mr. Liao was a summer extern for the Federal District Court of Hawaii.
"I am very excited about joining YK Law and the opportunity to work with our team to develop the firm's corporate and M&A practice. I am particularly excited about establishing the firm's presence in Orange County, California as this is a high growth region of California, especially in the medical technology and device space. Companies and people in Southern California have historically had close ties with China. I believe that by leveraging the resources and coverage of Beijing Yingke Law Firm, our firm will be in a great position to help our clients navigate the current U.S.-China landscape and to advise them on cross-border transactions." said Mr. Liao.
"It's our great honor to have Ian onboard," said Henry Li, the managing partner of YK Law. "Being a corporate and transaction attorney myself, I know Mr. Liao's professionalism and skills are top among his peers. Corporate and M&A, especially transactions between China and the U.S., are the core practice of this firm. I'm sure Ian will help us attract the best attorneys in the market and build a strong corporate practice group."
Linda Yang, the global partner of Beijing Yingke Law Firm and the founding partner of Yingke International said, "I'm excited to have Ian as our senior foreign legal counsel. His legal skills, project management experience, and reputation will be very helpful to our practice in China. We will provide him with our full support to build a top-level China-U.S. transaction team based in both the Greater China region and the U.S."
YK Law LLP is a full-service commercial U.S. law firm focusing on corporate, M&A, blockchain, commercial litigation, intellectual property and entertainment practices. YK Law currently operates in the cities of New York, NY, and Los Angeles and Irvine, CA. YK Law is a member of Yingke Global Network, with more than 10,000 lawyers practicing in 183 cities around the world.
The Orange County office of YK LAW is located in Irvine, California and is just opened in November 2019. Mr. Liao will assist in the firm in building and growing its Orange County office.
Ian Liao is admitted to practice law in California (since 1997). He is fluent in English, Mandarin and Taiwanese.